Social program
You are invited to check regularly this page for more details and updated information.
Sunday, 26 July 2009
Opening Registration/Check-in Desk at 13.00 - Welcome party at 20.00 You can register and collect the keys to your room if you are staying in the University Colleges. Free admission for registered participants, accompanying persons and exhibitors.
Monday, 27 July 2009, 21.00h
Concert at "Filippo Marchetti" historical theatre
"Nicola Piovani in Quintetto" Concert of Nicola Piovani, oscar-winning composer of the music to Roberto Benigni's Life is Beautiful.
There is a limited number of seats available for the concert of Nicola Piovani's quintet (oscar-winning composer and pianist), taking place on Monday 27th evening in the beautiful historical theatre "Filippo Marchetti". Participants are invited to reserve their seats before July, 22nd, using their registration form (section "Messages").
Tickets price: 20 EUR (to be paid at the conference desk)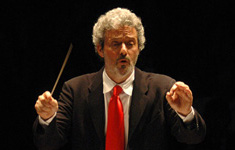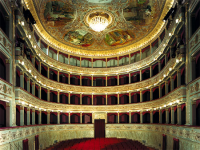 Nicola Piovani (left), "Filippo Marchetti" historical theatre (right)
Wednesday, July 29 2009, 14.00h
Conference Excursion
Participants and accompanying persons are invited to join one of the two proposed social excursions. Participants must confirm their participation and choose one of the options detailed below in their Registration Form. Free admission for invited and senior participants paying full fee. Participants registered at reduced fees and accompanying persons will be charged with an admission fee of 40 EUR.
Option A: Frasassi caves, experience an incredible upside down world
Option B: Assisi, a journey through art and spirituality
OPTION A: Frasassi caves, experience an incredible upside down world
The tour departs from Camerino down into the Esino River valley, famous for its wine Verdicchio of Matelica. Arrival at Genga and its magnificent Monastery of San Vittore. At the entrance of the Frasassi caves, you will find yourself in an incredible upside down and hidden world. Accompanied by professional guides, you will discover a fascinating place full of extraordinary concretions where the silence is only broken by the drops of water which keep this magical place in a continuous evolution.
The guided tour lasts about 70 minutes and is 1.5 km long. The path is well equipped and easily accessible (even for children of all ages). The temperature inside is a constant 14 degrees Celsius. A sweater and comfortable shoes are advisable. The afternoon ends with a delightful tasting of wines and typical regional food in an ancient mill which has been carefully restored.
Departure from Camerino: 14.00 (duration ~ 5 hours) Price: 40 EUR, includes transportation from/to Camerino by bus, English speaking guide and assistant, entrance fee to the caves and wine&food tasting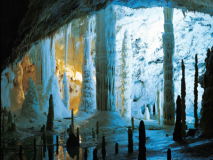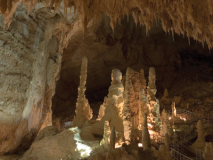 Frasassi caves
OPTION B - Assisi, a journey through art and spirituality
The tour leaves The Marche for the verdant region of Umbria, crossing the plateau of Colfiorito to reach Assisi, famous all over the world as the native town of Saint Francis and for the Giotto's masterpieces. Accompanied by a professional guide, you will visit the Basilica of Santa Chiara, honouring the founder of the Poor Clares, and then move to the heart of historic town center. The main square (Piazza del Comune) is very well-preserved and its buildings have witnessed all the city's vicissitudes over the centuries. You will admire the austere and elegant public buildings of the Medieval Comune: the Prior's Palace, the Palace of the Captain of the People, the Tower of the People as well as the Roman Temple of Minerva in the Church of Santa Maria and the town's Roman Forum, a vast archaeological area under the modern square. The most important building is the Basilica di San Francesco, a UNESCO World Heritage site. This complex is huge and full of famous works of art many of which have been restored after the damage caused by the 1997 earthquake. Well known works include the colourful frescoes of the Giotto cycle on the Saint's life and work by Simone Martini and Cimabue.
Departure from Camerino: 14.00 (duration ~ 7-8 hours). Participants will be asked to leave just after the end of the morning session and a lunch box will be provided. Return to Camerino in the late evening. Price: 40 Euro, includes transportation from/to Camerino by bus, English speaking guide and assistant.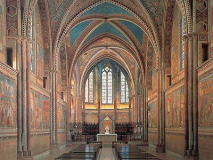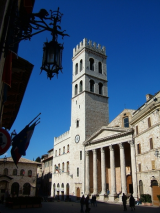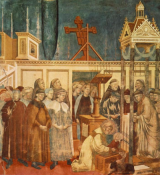 Assisi
Wednesday, July 29 2009, 21.30h
Unicam Jazz Band concert. Free admission.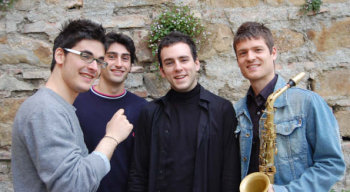 Unicam Jazz Band: Fabio Marziani (sax), Alberto Napolioni (piano), Stefano Battaglia (contrabass), Giacomo Zucconi (drums).
Thursday, 30 July 2009, 20.00h
Social Dinner at "Palazzo Ducale"
The social dinner will be held in the suggestive courtyard of Palazzo Ducale. Participants must confirm their participation in the dinner and communicate the presence of accompanying persons, if any. The admission fee is 40 euro.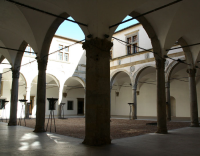 Ducal Palace
Saturday, 1 August 2009, 21.30h
Concert at "Chiostro San Domenico"
Esperanza Spalding World Tour 2009 concert. Tickets prices and information on how to book will be soon available.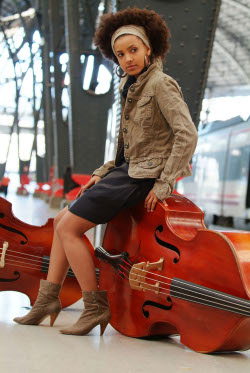 Esperanza Spalding, winner of the Grammy Jazz Award 2009
... and more!
Concerts and performances at the historic Marchetti Opera Theatre of Camerino as part of the "Camerino Festival" will be organized during the conference week. Tickets will be available to Conference participants and accompanying persons at the Reception Desk.
This page will be continuously updated... come back here soon!