HOME
Logo
Promote
Newsletter

Scope
Dates and deadlines
Committees
Sponsors
Scholarships
Awards
Satellite events

Registration
Visa information
Transportation
Location
Accommodation
Food
Climate
Social program

Call for papers
Scientific program
Invited speakers
Submit manuscript
Prepare poster

Location
Camerino is an historical town, known and respected since Roman times, which became important especially during the middle-age. Its old centre has seen little change over the last few centuries, leaving it a particularly attractive sight, and the opulence of the architecture is all the more impressive considering that the town can claim a mere 7,000 inhabitants. The "Da Varano" Ducal palace was one of the most sumptuous in Italy at the time, and in 1336 the University, one of the oldest in Italy, was founded.
Camerino (see photo below) is conveniently located in hilly surroundings (Marche region), near both to spectacular Appennini mountains and to the pleasant Adriatic coast. This pleasant position offers the opportunity to enjoy a wonderful panoramic view.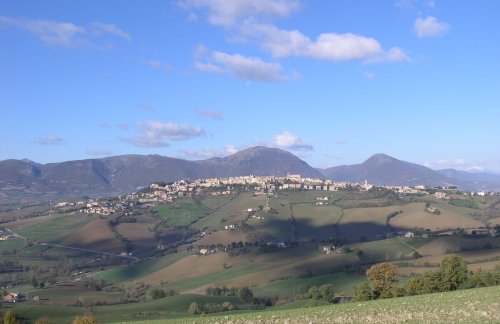 Now Camerino hosts a well-organized University campus, with an established international reputation and good infrastructures, located in a beautiful natural environment.
The plenary sessions and symposia will take place in the "Benedetto XIII" hall (600 seats, see photo below) located in a wide area just near the cafeteria and some of the student accomodations. Parallel sessions will take place in historical halls in the old University buildings (Palazzo Ducale). Extra-space for posters and exhibitions, rooms for internet connections and meetings will be available near the largest hall.